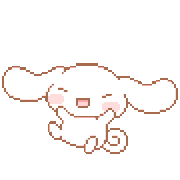 Cinnamoroll (シナモロール, Shinamorōru) is a Sanrio character who was born on March 6, 2001, on a cloud far up in the sky. He is a little chubby male dog with white fur, blue eyes, pink cheeks, a plump and curly tail that resembles a cinnamon roll, and long ears that enable him to fly.
History
Cinnamoroll was created by Miyuki Okumura for Sanrio in 2001. For the first year as a dog, he was named Cinnamon, but to remedy any problems with the registration of the trademark overseas, as of 2007, his official name became Cinnamoroll.
He made his debut in the manga Fluffy, Fluffy Cinnamoroll.
Movie
Detailed article: Cinnamoroll: The Movie.
Series
Cinnamoroll appears in two series
Lloromannic focuses on Berry and Cherry
Cinnamoangels focuses on Azuki, Chiffon, and Mocha
Gallery
With Family and Friends
Sources